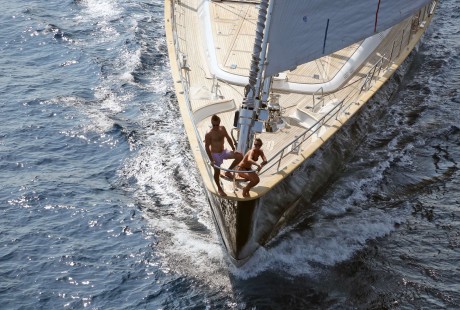 Parsifal and her crew will give you the ultimate vacation. The yacht has second-to-none experience in chartering, and in the Parsifal DNA lies more than 20 years of dedicated focus on our customers needs. The crew is focused on bringing a standard of service and excellence that has yet to be matched and the comfort is more than just pleasing to your soul, mind and body; It incapsulates everything you want out of a quality vacation.
World class dining, close relations with friends and family, toys for the child in you or for children of all ages, a new view to wake up to every morning and a sensation of freedom only possible on a sailing yacht. The ultimate vacation is simply the one that you can tailor make for your needs – and Parsifal III has all the tools to make this possible. Just close your eyes and dream. Dream and we will make those dreams come true.
Perfomance sailing
Sailing yacht PARSIFAL III is set to mark new standards in luxury sail boat chartering in the Caribbean and Mediterranean. Her Perini Navi design exudes excellence whilst also maintaining levels of comfort and practicality to levels rarely displayed. The clean lines of her aluminium hull, carbon fibre rig and in-furling boom guarantee superb and powerful sailing performance; a true sailing experience.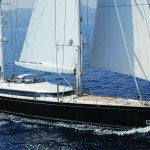 She is one of Perini's fastest sailing yacht created thus far. Built by the famous Perini Navi yard luxury sailing yacht Parsifal III boasts stylish sleek lines and a jet-black hull. This creates a sticking yacht against the brilliant white of her superstructure. Parsifal III also has a striking and upbeat interior as designed by the world famous Remi Tessier. The magnificent interior design is highlighted with her blend of dark ebony woodwork, light sycamore, stainless steel and fine leather. She features exquisite design and craftsmanship which creates an ultra modern and stylish yet warm, inviting and relaxed feeling. This is made possible with the skilled use of natural and restful textures. Features of note include a plunge pool, wireless internet, Teppinyaki BBQ, Modular seating in the saloon, and an array of sunning entertainment areas. Parsifal III is one of the most sought after and versatile sailing yachts on the charter market.